Doesn't everyone start out with tent camping? Then you get the "bug" to be surrounded by the great outdoors? As I refused to lay on the ground in a tent in the beautiful Arizona landscape surrounded by the creepy crawlies of the native terrain.
2004 brought us many a days sleeping on the lake in a boat. I loved to fish at night.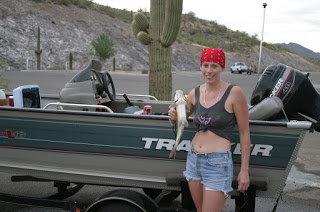 In 2005 we added to our adventures sleeping in the back of the truck or in this little pop up trailer. Most the first trips surrounded hunting or fishing and were shorter trips. Sometimes it was just too cold in the winter to handle the pop up so we reverted to truck camping. Yes, parts of Arizona get cold!
(man we looked like babies…this seems so long ago)
2006 brought more hunting trips that tended to be longer periods of time. But at this point we were wanting some transportation to go along with it. So we got these little bikes that we hauled in the back of the truck.
In August of 2007 we decided it was time to go bigger. We sold the pop up trailer and purchased an empty Hallmark cargo trailer. This was going to be a customized toy hauler for our outings. We started the slow process of customizing a piece at a time. The plan…a kitchen, bathroom and refrigerator, bunks that fold and room for the bikes. We shortly after purchased a small dune buggy so the kids could have rigs too.
2010 we were still at it, hunting playing, hanging with our boys