Which is better: Residential Refrigerator or RV Propane / Electric Refrigerator?
It really depends on your situation. If you do a lot of boondocking (dry camping) and you have very little or no solar, RV Propane Electric Refrigerators are going to be your best choice. However, if you full time, spend a lot of time in parks with full hookups, or  have a mega solar array with a large inverter then a residential refrigerator may be for you.
Some of the benefits of a residential refrigerator include: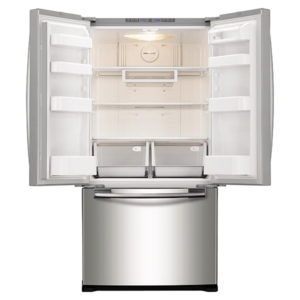 Better cooling in extreme hot or extreme cold environments
Less expensive then RV Propane Electric refrigerators
Easier to service (no need to go to an RV dealer)
Drastically more options, sizes, and colors available
SIGNIFICANTLY more energy efficient running on AC power
No more soft mushy ice cream!
Safer compared to burning propane
Optional ice maker and water dispenser
Increased interior space for the same footprint
Frost free!
Some of the disadvantages include:
More difficult to secure the refrigerator and doors for travel
While more efficient, residential refrigerators utilize a compressor which will often create a startup surge that could result in tripping a breaker or worse
Many residential refrigerators at the same capacity are slightly heavier
Requires an appropriately sized solar / inverter system while boondocking or traveling to avoid having to running your generator
Residential Refrigerators were not designed to fly down the road at 75 mph. Your milage may vary.
We could do an entire article on the pro's and con's of each. However, the above items are many of the key benefits and disadvantages of a residential refrigerator for your RV.

Can I Buy any Residential Refrigerator for my RV? 
Everyone's refrigerator requirements are different from a small refrigerator for a van to a 23 cubic foot model ideal for a Class A or 5th wheel. This article will mainly focus on larger refrigerators. If you are living in a van, schoolie or other small RV, consider a 12/24/48v refrigerator with a Danfoss compressor. That said, let's take a look at some of the key factors you should consider when purchasing a residential refrigerator for your RV.
Size; will if fit in the space required and still allow the doors to open sufficiently?

Do you require a counter depth model?
Will you need to modify a cabinet or floor to accommodate a specific refridgerator?
Is there a wall to the left or right that will interfere with the operation of the doors?
Consider how much room will be required to open the door a full 90 degrees.
If you have slides, consider the operation of the doors while the slides are in.
Consider height to top of hinges, depth without doors, and depth with doors and handles.
How will you get it into the RV? Will a counter depth model with the doors removed fit through your RV's door or will you need to remove a window?

Weight; if replacing an existing RV refrigerator, compare the specs.

Keep in mind, many retailer websites show shipping weight vs actual weight. If uncertain, contact the manufacturer.

Energy consumption / enegrystar rating (posted on most refrigerators sold in the US); rated in kWh/year. Divide this number by 365 and multiple by 1000 to get the number of average daily watts.

For example, a refrigerator that is rated at 672 kWh will consume 672/365*1000 or 1841 watts per day.
For comparison, a 400 watt solar array mounted flat on your RV in Arizona will produce around 2400 watts in the summer and closer to 1400 watts in the winter.
If you will be depending on solar, do you have enough battery capacity to make it through the night? What about cloudy days?
Keep in mind, the energy ratings are for refrigerators installed in a home. Insulation in an RV is much less and will likely result in higher consumption than what is listed on the refrigerator.
Don't assume a smaller refrigerator is more efficient than a larger one. They vary.

Electrical Requirements

2280 Watt Solar Array

Check the breaker that controls your refrigerator. Is is dedicated or does it share the breaker with other appliances (eg, heater or microwave). Is it 10, 15, or 20 amps? Most larger residential refrigerators require a dedicated 15 or 20 amp breaker.

Style; French Door, Side by Side, Freezer on Top / Bottom?

Do you have a wall next to where your refrigerator will be install which will prevent a door from opening fully? If so, a side by side or even a french door unit may not work for you. You need to ensure that storage and ice bins can be accessed and removed.
Top / Bottom Freezer models tend to be too deep and too wide to bring in through an RV door.

Build Quality; is there such a thing anymore?

Of course you don't want to buy something that seems flimsy. Pounce on the shelves. See if they feel like they will hold up. If shelves have too much flex in them, you might want to pass.
Consider overall build quality and reputation of the manufacturer.
Will the manufacturer honor the warranty if the refrigerator is install in an RV?

Securing; how will you secure the refrigerator for travel?

Any refrigerator or appliance needs to be secured properly for travel. This includes securing the refrigerator itself as well as securing the doors so they don't accidentally open during travel.

Water & Ice; who doesn't love a water and ice dispenser in their fridge? Nam nam nam crushed ice!

If energy efficiency isn't a factor and there is water nearby, this is a great perk compared to most all RV Propane refrigerators.
If energy is an issue, French Door style refrigerators with NO water or ice dispenser in the door use less power per cubic foot than models that place the ice maker in the refrigerator compartment.

Price; must we consider price? Yes we must.

Upgrading our 18 cubic ft RV Propane Refrigerator with a Residential Refrigerator
We have a 43ft 5th Wheel Toy Hauler with an 18 cubic ft Norold (aka Never Cold) Propane Electric Refrigerator. This is one of the biggest RV refrigerators you can buy. And guess what? It's horrible in the heat. It consumes a ton of propane. It's even worse on electric consumption.
Here are the specs:
Model
Norcold 2118sst
Style:
French Door
Width
35.6″
Height
68.6″
Depth without door
24″
Depth with door and handles
27.2″
Weight
251lbs
Energy use per day – Electric

Over 8,000 Watts




(measured with a kill-a-watt meter)

Water / Ice
None
Using the key factors noted above, we found the following refrigerators that would all work well for us. Keep in mind, these work for our specific RV and the cabinet that was built for the Norcold 2118ss which is a 36″ wide refrigerator. The key factors we are interested in are: size (ideally little to no wood working), energy consumption (we have 2280+ watts of solar, 10kwh of lithium batteries, and 50a inverter) and weight. Our fridge is also in a slide. So, water and ice would be nice; but, it does complicate the install.
Make / Model
Norcold 2118sst
LG LFC21776ST
GE GWE19JSLSS
Maytag MFC2062FEZ
Style:
French Door
French Door
French Door
French Door
Capacity
18.3 cubic ft
20.9 cubic ft
18.6 cubic ft
20.0 cubic ft
Width
35.6″
35 3/4″
32.75″
35.63″
Height
68.6″
69 3/4″
69.875″
70.13″
Depth without door
24″
23 5/8″
24.125″
24.13″
Depth with door and handles
27.2″
30″
31″
29.38″
Weight
251 lbs
278 lbs
232 lbs
291 lbs
Energy use per day – Electric
Over 8,000 Watts


(measured with a kill-a-watt meter)

1570

Watts


(based on energy star rating)

1499 Watts


(based on energy star rating)

1542

 Watts


(based on energy star rating)

 
Water / Ice
None
Ice Maker Only
Ice Make & Water Inside Fridge
Ice Make & Water Inside Fridge

Comparing Each of these Units with Some of the Key Considerations Above
Size: The GE is too narrow and the Maytag is a tiny bit too tall; although I'm positive it would be a 10 minute trim job on the cabinet to make it work. The LG, as Little Red Riding Hood would say, is just right. The cabinet opening in my RV is slightly bigger in width and height than the Norcold's dimensions. So, all would fit well with a little jiggle here and there. The GE, being under 32″ wide, would require some bigger trim to secure it properly and might look out of sorts. When it comes to inside size (capacity), the LG is the largest of the three at 20.9 cubic ft.
Energy Consumption: They all do well here. However the winner, if you are keeping score, is GE.
Weight: The GE is the easy winner here being a smaller unit. It actually comes in under the weight of the Norcold which is why this narrow model even remained on my list.
Nice to haves: They ALL have ice makers in the freezer where ice belongs. However, the GE and Maytag both have a small water dispenser inside the fridge.
Price: Price will vary from store to store and sale to sale. However, the LG which is harder to find locally runs around $1800 street price. The GE runs around $1600 and the Maytag wins? at a mild $2100. If you think that is pricey, consider the Norcold sells for $4500 at camping world.
Conclusion: We will be ordering our residential refridgerator in the coming week or two and will likely go with the LG. It is only slightly heavier than our Norcold yet it fits perfectly and is the largest capacity of all four models listed. It does consume 5% more energy than the GE. However, for our system, that is a rounding error. If we decide against the LG for any reason, we will opt for the Maytag. While heavier, it has the depth profile closest to the Norcold. In other words, it won't hang out much more. Being on a slide, this is a big deal.

Other Great Options if Your situation is Different than Mine
| | |
| --- | --- |
| | The Haier HRQ16N3BGS is a 16 cubic ft residential refrigerator. While it doesn't include an ice maker; this model is perfect for most larger RVs. The handles on this unit are recessed which results in a shallower profile. If energy efficiency is more important than larger capacity refrigerators, than this 1227 watt per day unit is going to keep your family happy and your generator quiet. Your pocket book won't be too upset either at just north of $1,000. |
| | Have you considered a top or bottom freezer model? I have. This 17.6 cubic ft Whirlpool WRT518SZFM is a great option. Many top / bottom units come with ice makers as an option if that is important. Do keep in mind, this style of refrigerator often sports depths too large to bring in through an RV door. This Whirlpool on the other hand is 25.25″ deep with the doors removed. This will fit through most standard RV doors. Like the Haier above the handles on this unit are flush with the door making it a better fit for many situations. At just 173 lbs, a daily rating of 1100 watts, and a price under $1,000 this refrigerator would be a great option for many. The only downside is its smaller freezer section at 3.98 cubic ft. |
| | The Samsung RF18HFENBSR is a 17.5 cubic ft model popular with many RVers. When I looked at residential options a year ago this one stood out and seemed to be the way to go. However, this unit is rated at 1627 watts per day and is only 17.5 cubic ft. Compared to the GE GWE19JSLSS at 18.6 cubic ft and only 1499 watts, the Samsung starts to appear inferior. The Samsung does utilize an inverter compressor which improves overall efficiency and may perform better with smaller power inverters. The Samsung can often be found on sale for well under $1,300 making it a good budget option in the french door class.  |

You Decided on a Model. Now what?
Basically, you have two options: install it yourself or have someone do it for you. Home Depot isn't going to install it. You may get them to cary it inside the RV if it fits through the door. They might even slide it into a cabinet. However, they will not ensure it is travel worthy bolting it to the floor and adding proper retaining trim around the fridge. So, if you aren't comfortable doing this yourself there are plenty of RV dealers willing to take your money.
If you are considering a residential fridge for your RV, I hope this was insightful. It is the accumulation of roughly two months of pondering and researching. Take your time, click on our affilitate links above, figure out what will work best for your situation, and don't be afraid to make that leap!
Also, please subscribe using the form at the top right of this website. We will be posting a follow up article on our installation process. The idea behind all this research was to ensure the best solution possible for our situation. If we did our homework, that follow up post should hopefully read "Done. Easy Peasy".
Thanks for following,
Kirk